Salon pricing is based on each stylist's years of experience, advanced training, and client request rate.
Prices vary between stylists.
Kelley Burnett - Salon Owner
Hair Stylist and Short Hair Expert
Kelley is a well-rounded stylist specializing in many areas such as point cutting, texturizing, and color.  She combines classic techniques with new advanced trends that convey the hip yet sophisticated look that her clients love.  Kelley keeps in mind that your hair care needs are a constant evolution.
 "I absolutely love being a hair designer.  My number one goal is to provide my clients with the best customer service and strive to fulfill their hair care needs." 
Tiffany
Hair Designer
Tiffany has had over 6 years of salon experience as an Evolution intern. Now that she is a stylist, she really enjoys putting her cutting and coloring techniques to work. She excels at high-lighting and blow drying finished styles. She loves to see her clients happy and feeling good about themselves.
 "I love coming to work knowing that what I do each day makes a difference in someones life."
Kenn Williams
Hair Designer and Colorist

Kenn has been a stylist for over 20 years.  He has educated for several manufacturers.  He is currently a Senior National Educator/Platform Artist and Task Force member for Paul Mitchell Systems.  His work has been published in several magazines including Inspire, Passion, and Short and Sexy.             
"I love helping my clients achieve their fashion goals."
Christine
Hair Designer and Colorist

Christine is a National Educator for Paul Mitchell Systems.  She loves to create textured styles and excels in everything from classic to modern designs.  Her designs work well for both men and women.
 
"I love to have my clients feel gorgeous from the inside out!"


Douglas
Hair Designer and Colorist
Doug is in his 30th year of working in the beauty industry!  He focuses on precision hair cutting and coloring techniques as well as brow care. He is committed to providing a total salon experience.
"I believe strongly in the power of feeling good about your appearance!"
Missy
Hair Designer

Missy has been a stylist for over 11 years.  She has a passion for her craft and enjoys advancing her career through continued educational classes.  Since coming to Evolution Salon, she has improved her skills and will continue to as the years go by.            

"There's nothing more rewarding than seeing a client's smile at the end of their visit!"
Jill
Hair Designer and Colorist 
Jill has worked at Evolution Salon collectively for over 10 years! She specializes in blonding and coloring services. She graduated from a Paul Mitchell Cosmetology School in 2005 and worked there as the Admissions Director before coming back to her true passion - the salon.
"I love talking to my clients. An integral part of achieving their desired look is communication!"
Lauren
Hairstylist and Colorist 
Lauren has been working as a stylist for over 12 years now. She likes to start each visit with a very thorough client consultation, ensuring the utmost quality and satisfaction of services. She excels in dry haircutting, all forms of color services, mens hair care, and eyebrow shaping. Her bright and smilely demeanor shows just how much passion she has for her craft! 
"The thing that makes me the happiest is knowing that making people smile and feel amazing is part of my work day!" 
Serena
Hairstylist and Colorist 
Serena has been working at Evolution for over a year now. After having a year of intern experience and graduating from Chrome Institute of Cosmetology, she is now taking her own clients. She specializes in highlighting, balayage and other blonding techniques.
"I love making others smile and feel beautiful" 
SUPPORT STAFF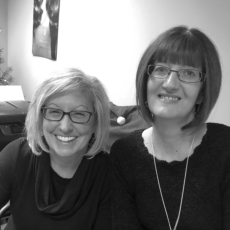 Receptionist - Jolene and Kim.    Future Professional Intern - Laney. (not pictured)           
                  Our support team is an essential part of the Evolution Salon experience!  They are an outstanding  group of dedicated employees who consistantly strive to provide each client with incredible customer service!
"It is our commitment to provide outstanding service to Evolution clients."
Most photography work is done by Greg Cazillo of Cazillo Photography.