Proudly Celebrating 20 Years!
We are proud to announce that Evolution Salon is celebrating 20 years of making our clients look great and feel special! We take great pride in providing outstanding customer service and we're truly grateful for everyone's support of our Small Business!

OUR TEAM IS HERE TO HELP!                                                                       Help you look your best with haircuts, color, and highlights as well as helping you with professional products, prescribed exactly for your hair type.  We want to help you find a stylist that understands you and your styling concerns!
OPEN MONDAY-SATURDAY!                                                                           We are now open Monday-Saturday. Monday-Thursday we're open until 8:00pm!  We hope this is an extra convenience to help clients get the appointment times that work best with their busy schedules!                        
Do you love your hair?
If not, then it's time to visit our salon! We have a great team of talented stylists who will take the time to work with you and help you achieve your personal hair care needs! Check out our Personnel Page to learn more about our stylists, their individual specialties, and accomplishments!
After you've been here and you do LOVE your hair, please tell your friends! The best compliment we can recieve is a referral. To show our appreciation, you'll recieve a 10% discount on your next salon service for each referral that you send to us!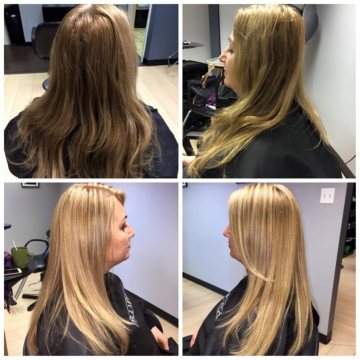 Express Keratin Blowout Service




Express Blowout is a keratin treatment that helps make blow drying and styling much easier. It lasts from 4-6 weeks, takes about an hour, and starts at $105. (Price and timing maybe more depending on thickness and length of hair) FREE 15 MIN. CONSULTATION with Christine and Jill.



New Client Specials! 
 $10.00 off your first salon service with JILL, TIFFANY, or LAUREN!
Proudly Using OLAPLEX!                                                                                                   OLAPLEX is a hair treatment that limits damage to hair during and after highlighting and coloring. It maximizes the strength of hair by reconnecting broken bonds in the hair which gives it a thicker look and keeps hair stronger and healthier. We recommend using Olaplex with all blonding treatments or using a Stand Alone Treatment for damaged hair. Pricing starts at $30.

Salon Hours
Mon: 12 PM -8 PM                                                                                                                                          Tue:  10 AM - 8 PM
Wed: 12 PM - 8 PM
Thurs: 10 AM - 8 PM
Fri:    10 AM - 4 PM
Sat:    10 AM - 4 PM
CLOSED SUNDAYS